Game Description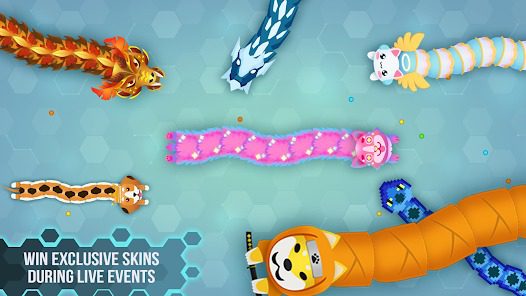 Snake.io is a thrilling and competitive online multiplayer game that puts your snake controlling skills to the test. In this game, you'll compete against other players in real-time to become the longest and most dominant snake in the arena. Developed by Amelos Interactive, Snake.io offers hours of addictive gameplay.
Game Controls
Master the game with these simple controls:
Arrow Keys: Use the arrow keys on your keyboard to control the direction of your snake's movement.
Mouse: Alternatively, you can control your snake's movement by moving your mouse cursor.
How to Play Snake.io
Embark on your journey to snake supremacy with these instructions:
Start Small: Begin the game with a small snake.
Collect Food: Move your snake around to collect glowing orbs scattered across the arena. These orbs will make your snake longer.
Avoid Collisions: Be cautious not to run into other snakes, or you'll be eliminated from the game.
Outsmart Opponents: Use your snake's agility to outmaneuver other players. Try to encircle them and force them to crash into your snake's body to eliminate them.
Grow and Dominate: As you collect more food and eliminate opponents, your snake will grow longer. The longer your snake, the higher your chances of dominating the game.
Survival is Key: The last snake standing in the arena wins the game.
Tips and Tricks
To become a Snake.io champion, keep these tips in mind:
Stay Alert: Always be aware of your surroundings and the movements of other snakes.
Cut Off Opponents: Try to cut off other snakes' paths and force them into a collision.
Use Boost Sparingly: You can boost your snake's speed for a short burst, but use it wisely as it consumes your snake's length.
Don't Get Trapped: Avoid getting trapped in tight spots, as it makes you an easy target.
Practice Patience: Sometimes, waiting for the right moment to strike is the key to success.
Game Developer
Snake.io was developed by Amelos Interactive, known for creating engaging and competitive multiplayer games.
Game Platforms
You can enjoy Snake.io on the following platforms:
Web Browser: Play the game online directly in your web browser.
Mobile Devices: Download the game on iOS and Android devices to play on the go.
How to Play Unblocked
To play Snake.io unblocked, ensure that your school or workplace doesn't have strict internet restrictions or content filters that might block gaming websites. You can access the unblocked version of the game by visiting official gaming websites or platforms associated with Snake.io. Once you have access, you can compete with other players without any restrictions.