Game Description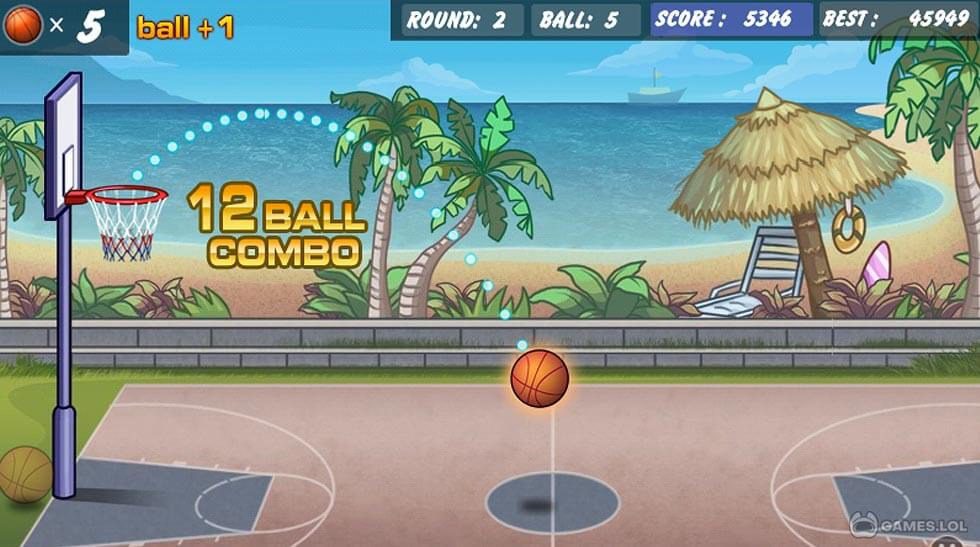 Basketball Shooter is an addictive online basketball game that tests your shooting skills and precision. Developed by MarketJS, this game offers a simple yet challenging gameplay experience where your goal is to sink as many baskets as possible.
Game Controls
Master the controls to become a basketball shooting pro:
Mouse: Aim your shot by moving the mouse cursor and left-click to shoot the basketball.
How to Play Basketball Shooter
In Basketball Shooter, your objective is straightforward: score as many baskets as you can. Here's how to play:
Aim Your Shot: Move the mouse cursor to aim your shot at the basketball hoop.
Take the Shot: Left-click to shoot the basketball. Pay attention to the power and angle of your shot.
Score Points: Successfully getting the basketball into the hoop earns you points.
Limited Time: You have a limited amount of time to score as many baskets as possible.
Beat Your High Score: Try to beat your own high score or challenge your friends to see who can score the most points.
Tips and Tricks
To become a basketball shooting champion in Basketball Shooter, consider these tips:
Aim Carefully: Precision matters. Take your time to aim each shot accurately.
Master the Power: Experiment with the power of your shots. Sometimes, a softer or stronger shot is needed depending on the distance.
Time Management: Keep an eye on the timer and plan your shots accordingly. In some levels, quick shots might be essential.
Consistency is Key: Try to develop a consistent shooting technique to improve your accuracy.
Practice Makes Perfect: Like any sport, practice is crucial. Keep playing to refine your skills and set new records.
Game Developer
Basketball Shooter was developed by MarketJS, a game developer known for creating engaging and fun online games.
Game Platforms
You can enjoy the basketball shooting action of Basketball Shooter on the following platforms:
Web Browser: Play the game online directly in your web browser without the need for downloads or installations.
Mobile Devices: Download the game on iOS and Android devices to play on the go.
How to Play Unblocked
To play Basketball Shooter unblocked, follow these steps:
Check School or Work Restrictions: Ensure that your school or workplace doesn't have strict internet restrictions or content filters that might block gaming websites.
Visit Official Game Websites: Access the game on its official website or gaming platforms that offer unblocked versions of Basketball Shooter.
Shoot Some Hoops: Once you've accessed the unblocked version, start shooting hoops and challenging yourself to beat your best scores.
Basketball Shooter is a fun and addictive game that provides a quick and entertaining basketball shooting experience. Challenge yourself to become a high scorer and aim for the perfect shot!